Wausau Homes Scout Center Closed the Week of Dec. 28 – Jan. 1


Due to limited staffing availability for services during this time, the service center will be closed this week in order for staff to fully enjoy the holidays with their families.


Please plan ahead for any Scout Shop purchases. A reminder there is a secure drop box for your needs if you have any forms or other paperwork you want to drop off. Its near the employee entrance on the north side of the building.

The service center will reopen on Monday, January 4.
Scout Shop


Our Scout Shop Manager resigned in November. Scout Shop duties were only part of their role. Due to budget constraints during the pandemic, we cannot backfill this role in the foreseeable future. Our goal is to continue to provide excellent customer service despite not having a dedicated staff member in the Scout Shop. Additional staff have been cross trained for the Scout Shop.

Due to less staff available to provide Scout Shop customer service we are implementing a new order response time standard. In the past we have been able to have your order ready within one business day. Effective immediately, we are setting a new standard of two business days.

Please plan ahead when placing your orders to be mailed or picked up. Thanks for your patience!


The Scout Shop will continue to have curbside pick up and by appointment service only.
Appointments can be made for the hours of Monday-Friday 8:30-5. If you would like to schedule an appointment, please call 715-355-1450. Mail orders continue to be available. You can have us pull and mail them by sending us an email to scoutshop@samoset.org.

The Scout Shop will be closed to any services from Monday, December 28 thru Friday, January 1 as the entire Scout Service Center is closed during these dates.

Share your Scouting Experiences


If your Troop, Pack, Crew, Exploring Post, or STEM Lab is doing a fun activity, participating in a community service project, or earning awards we want to hear about it! Please share photos and stories about the great things that are happening with your Unit or an individual in your group. We will share them on Facebook or in the Smiley Newsletter. We all need to hear more positive stories that we can celebrate! Please send photos and stories to: amanda.flannery@samoset.org


Pack 496 handing out snacks and meals for essential workers!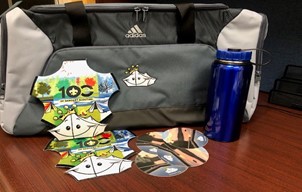 2021 Family Friends of Scouting Campaign


In 2021 Family Friends of Scouting presentations are going virtual! Troops, Packs, and Crews have two options:
Virtual one-on-one presentation-Unit Serving Executive or a volunteer schedules a Zoom meeting with the Troop, Pack, or Crew.
Council presentation-20-30 minute presentations including a skit and testimonials run by the council staff and volunteers occurring on January 12th at 7 pm, January 25th at 7 pm, February 11th at 7 pm, or February 14th at 7 pm.
Each Pack, Troop, and Crew has their own online giving webpage!


Go to: https://app.mobilecause.com/vf/SMILEY to find your page and share through social media with all your friends and family! Each Scouting group will have their own text to give option as well. Check out the website to see what number is assigned to your Scouting group.
Help your Troop, Pack or Crew reach their Friends of Scouting goals!


UNIT INCENTIVES


Units achieving 100% of their FOS goal
by March 31st will receive:
Preferential camp sign up for Akela's World and Tesomas for 2022.
Packs that achieve their stretch goal by May 28th will receive:
A pinewood derby car for every youth in their unit.
Troops that achieve their stretch goal by May 28th will receive:
Units achieving 50% of their goal before their
scheduled presentation will receive:
Ice cream treat for each youth and adult while attending camp.
To access and share our 2021 FOS video visit:
https://www.youtube.com/watch?v=dH0IT5Wcckw&t=11s


For Friends of Scouting resources check out our website: Samoset.org
Camp Staff


SMILEY WANTS YOU! If you are still looking for a job this summer and want both an excellent experience and a little money in your pocket, the Crystal Lake Scout Reservation wants you. We are beginning our interview process now which means there is still time to get in your application and get an interview through the rest of 2020. That's right, the deadline has been extended to the end of the year! Here is your chance to get some experience working with kids, be a role model, practice some theatre, scream and run through the forest, and most importantly gain some valuable life skills. We look forward to seeing you at Interviews. www.campingisking.com/CampStaff

Winter Camp Availability


There is plenty of space available for Scouts to have fun in the outdoors this winter! Samoset Council's Winter Camp program is a Saturday only program for Cub Scouts and Scouts BSA. Cub Scouts are split into Super Dens and lead around by an enthusiastic staff member leading you on the adventure of a life time, well at least your best adventure this winter. Scouts BSA will be able to check out winter equipment and have fun in their own way. We have snowshoes, skis, sleds, ice fishing gear and more available for Scouts to check out. Learn more and register online www.campingisking.com/winte
Winter Camp Update


The Risk Management and Camping Committees of Samoset Council have made the decision to limit Winter Camp to day-only programs in the interest of the safety of our campers and staff. This means that there is no overnight portion for Scouts BSA. This is not a change for the Cub Scout programs. We have also decided that we are not able to hold the Merit Badge classes as we originally announced. We are sorry for the inconvenience that this is going to cause. Troops can cancel before the end of the year for a full refund by emailing camp@samoset.org Any registrations after the first of the year will be assumed to be a day-registration and your registration will be adjusted accordingly.
OA Winter Banquet
Tom Kita Chara's annual Winter Banquet is on January 9th. This year the event is free! We are excited for the virtual Winter Banquet. You can sign up on www.tkclodge.org After you register, you will get the link for the virtual event. Starting at 1:00 we will have informative training events followed by fun interactive games at 2:25. At 4:10 we will begin the lodge business and awards portion of the event. We can't wait to see you at the Tom Kita Chara Lodge Winter Banquet.
Scouts BSA Klondike Derby – Winter Event


Mush-on! Well by February 6th, 2021 we will have snow and you and your Scouts can come on out for a day of fun and skill testing. We will be holding the Samoset Council Winter Event, featuring; Klondike Sled Skill Trail, Sled Judging, The Cheeseball 500 sled race, Foot-snowball Golf, Smiley the Tent Snow Sculpture Contest and more fun then you thought you could have in the snow.
Please register on-line by Wednesday February 4th. $15.00 per attendee. See the flyer on the registration site for more information and sled design suggestions. Prizes and awards will be handed out for the events activities. This event will be at Camp Phillips-Weston by the Scout Office.


NOTE: COVID FACE MASK ARE REQUIRED! And will help keep you warm.


So, start planning now to hit the Klondike Trail…."On, you Huskies".


Click here to register.
Pandemic Guidance Update
Council camp building reservations or use of meeting rooms at WHSC will continue to not be allowed through at least January 31, 2021. The Wausau Homes Scout Center will remain open for the Scout Shop, distance learning programs, and office functions by appointment or curbside service only. Special Note: The Scout Office & Scout Shop will be closed 12/28/2020-1/1/2021.
Council Staff and volunteers with outdoor program and risk management responsibility met in December to discuss the status of the pandemic and health/safety risks of our members. The group will meet in January to assess the situation again.
On November 10 you will recall the Governor of the State of Wisconsin issued recommendations related to COVID-19 in the form of Executive Order #94. This order discourages gatherings and interactions with people outside your immediate household. Emergency Order #1 which requires face coverings for indoor public spaces and recommended for outdoor gatherings when it is not possible to social distance is in place. This order was extended to January 19, 2021.
Scout unit leaders are encouraged to plan outside activities following social distancing guidelines. Meetings and outings of 10 or less participants are possible outdoors and is up to the discretion of the BSA registered adult leader in cooperation with the unit committee and parents of Scouts. We recommend the 10 participants ideally be a den, patrol or small Venturing Crews that been in the same cohort for a while. There is a new version of the Model COVID-19 Pre-event Medical Screening Checklist. Units are encouraged to use this when meeting in small groups. Link to the form is here: https://www.scouting.org/health-and-safety/safety-moments/pre-event-medical-screening/
Units who are uncomfortable in small group in person meetings, or unable to meet the guidelines are still encouraged to meet virtually.
Our Scouting@Home web page [ http://www.samoset.org/resources/scouting-at-home/72847] includes a variety of resources on Scouting at a distance and/or virtual Scouting. This page will be continued to be updated with opportunities. Some of the resources include running your own virtual meeting.
These policies are expected to be in effect through the month of January. The Samoset Council COVID Task Force will reconvene in January to discuss any policy changes as we approach February. Since the situation seems to be ever changing, we will notify changes on our website as well as future editions of Smiley News. If you have questions about Samoset COVID19 policies, you can reach out to John Overland at 715-355-1450 or go to www.samoset.org/covid19
Attention Eagle Scouts: Scholarship Applications Due January 15, 2021


Al and Chris Hanna established a scholarship fund to help support the education of Eagle Scouts attending college. This is a great way to support our Scouts who are preparing for their future through furthering their education. The Al and Chris Hanna Eagle Scout Scholarship Award is open to all Eagle Scouts currently registered with Samoset Council and who have demonstrated leadership in and outside of Scouting. The scholarship fund has grown to a level where in the last year $1,000 awards were given to 29 Eagle Scouts! Samoset Council is now accepting 2020 applications with a due date of January 15, 2021. Please review and complete your application carefully.
The online application is here http://www.samoset.org/openrosters/ViewOrgPageLink.aspx?orgkey=1438&itemkey=15221
Recognize Your Chartered Partner! Nominations Due January 29, 2021
Samoset Council is seeking nominations of Chartered Partners that have demonstrated excellence in relationships. One community-based organization will be chosen by a selections committee to receive the recognition for the 2020 year.
The following are examples of criteria, a combination of which might make a possible candidate for this recognition. This list is not inclusive as there are many other areas that could be considered. Evaluators will look for evidence of the following:
Demonstrates outstanding or distinctive relationships beyond the normal expectation.
Provides noteworthy service to youth, contributing to increased youth participation.
Cooperates with Scouting in the geographical area or council.
Involves the institutional head in the selection of quality unit leadership.
Causes greater comprehension in the use of Scouting within the community organization.
The Chartered Partner will receive a plaque with an inscription plate bearing the recipient's name and date of recognition at the Samoset Council Annual Meeting. February 24, 2021 at 6:30 p.m. at the Council Annual Meeting (likely a virtual meeting).
Submit the nomination form by Friday, January 29, 2021 you can find it at this link:http://www.samoset.org/resources/forms-documents/59742 or by email Support@Samoset.org or by U.S. Mail
January Cub Scout Suggested Electives


Tiger - Safe and Smart - http://usscouts.org/usscouts/advance/cubscout/workbooks/Tiger/Tiger-Safe-and-Smart.pdf


Wolf - Paws of Skill - http://usscouts.org/usscouts/advance/cubscout/workbooks/Wolf/Paws-of-Skill.pdf


Bear - Bear Picnic Basket - http://www.usscouts.org/advance/cubscout/workbooks/Bear/Bear-Picnic-Basket.pdf


Webelos - Art Explosion - http://usscouts.org/usscouts/advance/cubscout/workbooks/Webelos/Art-Explosion.pdf


Advancement Considerations for Cub Scouts
Guide to Advancement: 4.1.0.3 Who Approves Cub Scout Advancement?


A key responsibility for den leaders is to implement the den meeting plans as outlined in the four den leader guides shown within this topic. For Lion through Bear ranks, if the activity is completed outside of the den meeting, the parent, adult partner, or another trusted adult may sign in the Cub Scout's handbook, indicating the Cub Scout has done their best to complete the requirement. The den leader then records that requirement after consultation with the family or the Cub Scout to confirm completion. If the requirement is completed in a den meeting, the den leader signs the handbook and records the requirement. Den leaders may delegate an assistant or parent who helps at meetings to assist with the approvals. For Webelos and Arrow of Light adventures and ranks, the den leader signs for approval of all requirements, unless the den leader delegates this responsibility.
National FAQ Document 8.30.2020: ? Q: May parents sign off on Webelos and Arrow of Light requirements?


Yes. During this pandemic period, parents and other adults in the Cub Scout's family may sign off on Webelos and Arrow of Light requirements. We strongly encourage that parents use the Scouting App or Scoutbook to record completion of their child's requirements. We will continue to monitor the situation and communicate when this temporary measure expires and there is a return to the standard rules for Cub Scout advancement.
Scouts BSA Merit Badge Opportunities - January
Communications Merit Badge
Photography Merit Badge
Knot Tying Extrvaganza
Registration opening soon!
Is Your Unit Chartered with A Catholic Church?


Click here to find out how to get involved and earn your Religious Emblems. The Emblem will be presented at an annaul Recognition Ceremony.