Scouts BSA Klondike Derby - Winter Event
ONLY A FEW DAYS LEFT TO GET RESGISTERED FOR SOME FROZEN FUN!


Mush-on! By February 6th we will have snow and you and your Scouts can come on out for a day of fun and skill testing. We will be holding the Samoset Council Winter Event, featuring; Klondike Sled Skill Trail, Sled Judging, The Cheeseball 500 sled race, Foot-snowball Golf, Smiley the Tent Snow Sculpture Contest and more fun then you thought you could have in the snow.
Please register on-line by Thursday February 4th. $15.00 per attendee. We need your early registration so the staff can be prepared for you. NOTE: any late or walk-ins (not recommended) will be charged a $5.00 late fee. See the flyer on the registration site for more information and sled design suggestions. Prizes and awards will be handed out for the events activities. This event will be at Camp Phillips-Weston by the Scout Office.


When you are at the event to register, please park at Scout Office area and walk over as a Troop to Camp Phillips. One person enter McCormick Lodge to register your Troop. We will do health check on every attendee.


NOTE: COVID FACE MASK ARE REQUIRED! And will help keep you warm.


So, start planning now to hit the Klondike Trail…."On, you Huskies".

Click here to register.

WHSC Closed February 15th


The Wausau Homes Scout Center will be closed on Monday, February 15 in observance of President's Day. Please plan accordingly for Scout Shop or other appointments.
Be a Friend of Scouting!


The Friends of Scouting annual giving campaign for 2021 has launched! The next council wide Friends of Scouting presentation is February 11 at 7 pm. Join Samoset staff and volunteers to learn more about the annual Friends of Scouting campaign and support Scouting in your local community. There will be videos, volunteers and Scouts sharing their Scouting story, a skit done by the Camp Tesomas staff, and an explanation of recognition items and incentives. Join us on Zoom:
https://zoom.us/j/94509053363?pwd=Vml3dVZkSkp0a3Jpd0dOWmVrMEpFZz09


Meeting ID: 945 0905 3363
Passcode: 289723


You can donate anytime my visiting https://app.mobilecause.com/vf/SMILEY or texting Smiley to 71777.

Please take the time to share the opportunity to give with friends, family, and co-workers through your social media. We need your help to spread the word about Friends of Scouting and it is as simple as sharing on your Facebook page!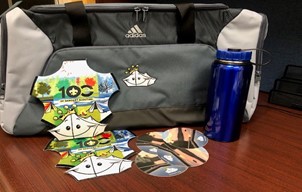 Scouting License Plate


Are you an alumni Scout? Did you earn your Eagle rank? Or do you just want to support Scouting?
Any Wisconsin resident may apply for Scouting Alumni license plates. Individual decals are available for Boy Scout or Eagle Scout. The plate fees include an issuance fee of $15 plus an annual $25 tax-deductible contribution in addition to the regular registration fee. These contributions go to the non-profit Boy Scouts of America National Foundation and are distributed to local Wisconsin councils.
You can purchase a Scouting license plate at any DMV or by mail. To apply for Scouting Alumni license plates by mail, please send the following items:


If the vehicle you wish to register with Scouting Alumni license plates is already titled in your name, send:
A copy of your Certificate of Registration or show the complete vehicle description on the MV2991 Scouting Alumni License Plate Information and Application
Select Boy Scout or Eagle Scout style
$25 Scouting Alumni donation
$15 issuance fee or $15 personalized plate fee
The annual registration fee if the current plates expire within the next three months or you have no plates
If the vehicle is not titled in your name, send:
A completed Wisconsin Title & License Plate Application MV1, or MV11 for dealer sales, including all fees
A completed MV2991 Scouting Alumni License Plate Information and Application
Select Boy Scout or Eagle Scout style
The Certificate of Title assigned to you by the seller
$25 Scouting Alumni donation
$15 issuance fee or $15 personalized plate fee
The annual registration fee if you do not have plates or your current plates expire within the next three months
Make the check or money order payable to: Registration Fee Trust.
Mail with payment to:
Wisconsin Department of Transportation
Special Plates Unit
P.O. Box 7911
Madison WI 53707-7911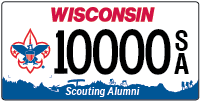 Scout Sunday - 2021


As the Scout Law states: "A Scout is Reverent".


February 8th is the official anniversary of the Scouting movement in the USA. Scouting's birthday is also a time to reflect on a Scout's Duty to God.


Through a trio of faith-based celebrations known as Scout Sunday, Scout Sabbath and Scout Jumuah, young people give back to the chartered organizations that give them so much.


While the official date is usually set as the Sunday before Scouting's anniversary, it's important to remember that units and chartered organizations are free to schedule Scout Sunday on any Sunday in February that is most acceptable to the pastor and congregation.


Scout Sabbath (also called Scout Shabbat), is celebrated by Jewish Scout units. Scout Jumuah is celebrated by Scouts from the Muslim community.


Some of the ways Scouts can celebrate Scout Sunday are as simple as wearing the full field uniform to worship services. It might mean participating in services by doing a reading, singing a song, or presenting religious emblems and awards to Scouts and Scouters. Or it might be something as grand as a service project to benefit a religious organization in the community.


With our current pandemic there are other creative ways Scouts can safely show their support for their faith whether in person or online. Please check Bryan on Scouting's Blog for great ideas:

https://blog.scoutingmagazine.org/2021/01/08/everything-you-need-to-know-about-scout-sunday-2021-scout-sabbath-2021-and-scout-jumuah-2021/?utm_source=scoutingwire&utm_campaign=swvolunteer1132021&utm_medium=email&utm_content=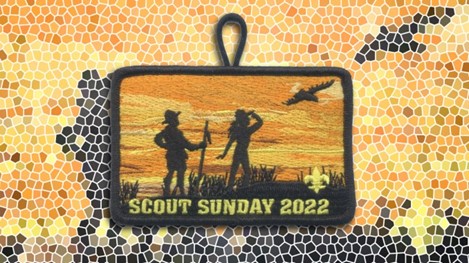 Smiley Face Masks Now Available!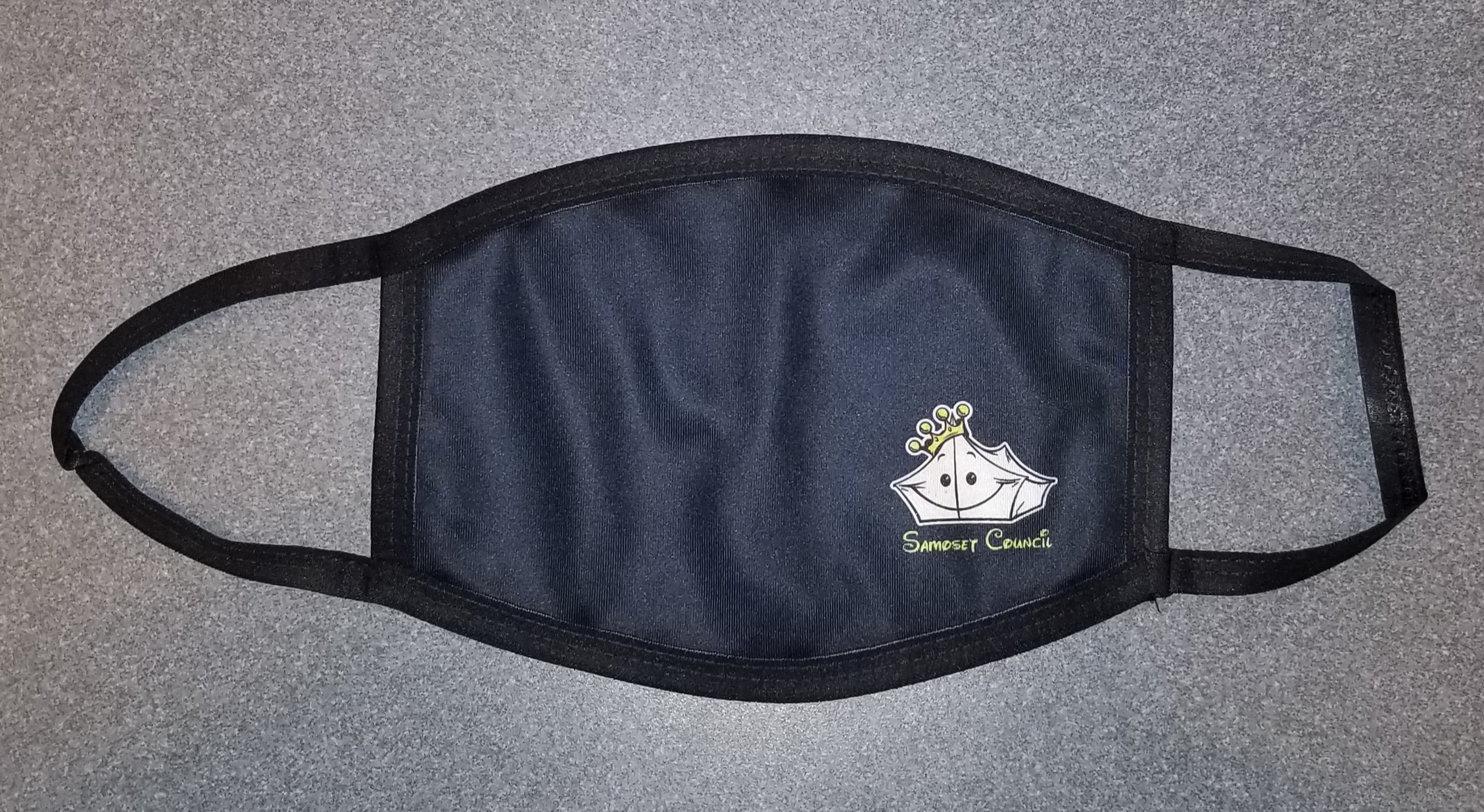 $8.99
Purchase yours at the Scout Shop today!
(Please call the Council office to make an appointment to visit the Scout Shop)
101st Annual Meeting of Samoset Council


The Samoset Council Annual Meeting will be held virtually on Wednesday, February 24 at 6:30 PM. Voting members are Executive Board, Members-at-Large and Chartered Organization Representatives. We will recognize volunteers, install our new Council President and thank our outgoing President, installation of executive board members and officers, passing annual resolutions, review the annual report and hear reports from council committees. If you are a voting member: executive board member, council member-at-large or chartered organization representative you have been previously emailed and mailed an invitation. A follow-up email with the Zoom link registration will be sent this week. If you are a voting member and did not receive an invitation, contact Rachel Lease at 715-355-1450 in order to register for the event and she will coordinate getting you the online meeting link.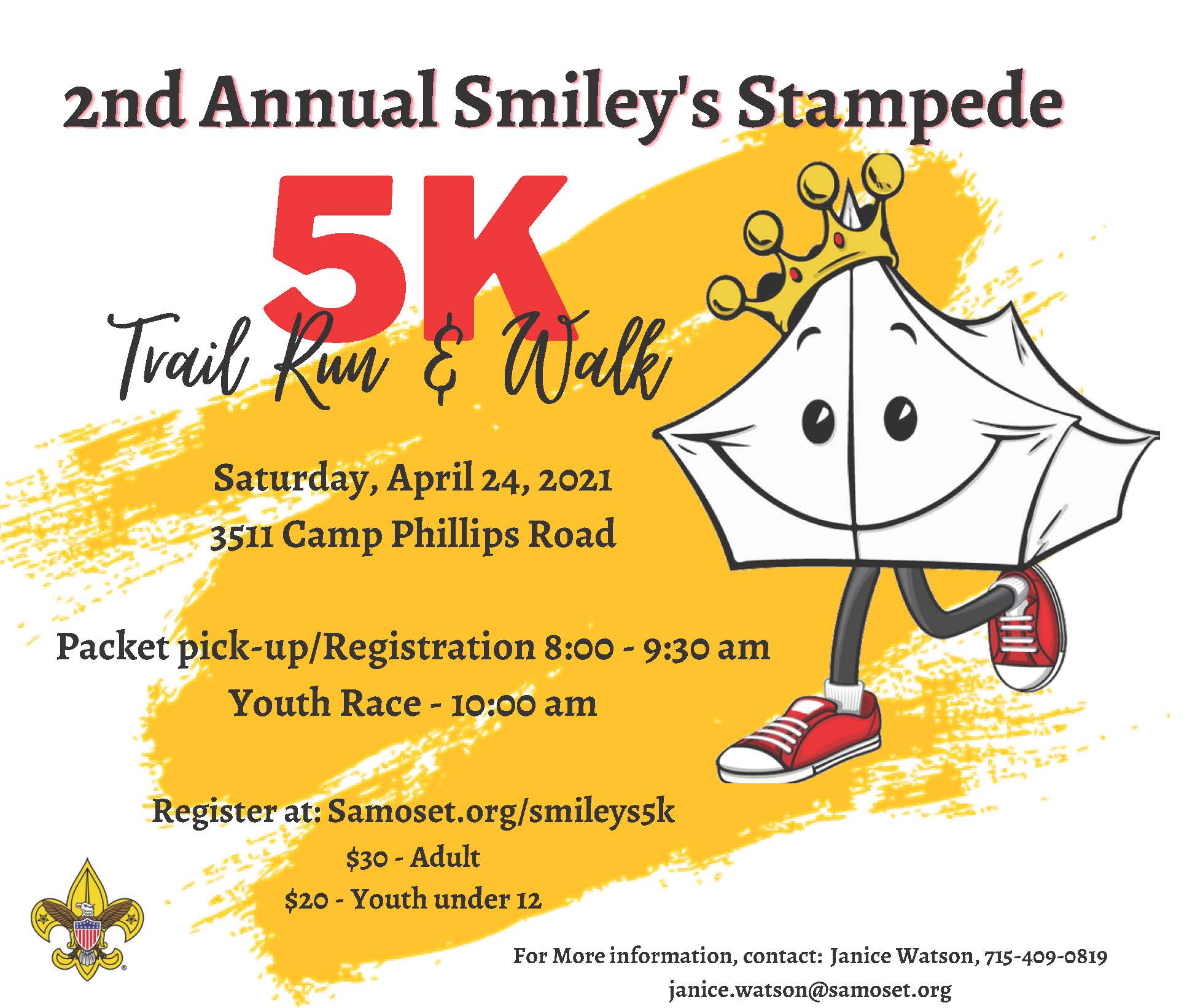 Snow Sports Merit Badge


Interested in the Snow Sports Merit Badge? We have dates for February 11th,12th and 25th, 26th.

Click here to view the flyer for more information!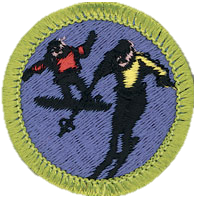 Winter Camp
There is still plenty of room for Winter Camp. March 6th in Rhinelander is a great opportunity to take your scouts on a winter adventure. To sign up and more information, email camp@samoset.org.
OA Elections

Tom Kita Chara Lodge will be contacting troops to schedule their OA Election. We are planning all elections to be virtual. Expect an email in the next couple of weeks with a unique link to schedule your election. There have been some temporary changes to the camping requirements for eligibility. Learn more here: https://oa-bsa.org/article/oa-temporary-camping-requirement-changes
Summer Camp Guidebooks


The summer camp leader guidebooks are almost ready to be published. They will be released shortly on www.campingisking.com The leader guidebook contains details on camp operations, advancement opportunities, policies, and other general information that is helpful in planning your summer camp experience
Merit Badges


Sustainability Merit Badge will be live very shortly. Registration is at www.samoset.org/MeritBadges
Chartered Organization Representative Training on February 24


Samoset Council will be offering the Chartered Organization Representative training on February 24th at 5:15 via zoom prior to the annual meeting. The link will be made available closer to this date. This training is an excellent addition to the repertoire of necessary trainings for your unit members. Our experienced trainers will assist volunteers in navigating and delivering the online training so that they can become more adept in their role. The COR is an important position that serves as a liaison between the Chartered Organization and the unit to ensure that communication and planning, among other unit functions, are handled smoothly. Please check it out!

The registration link will soon be ready at www.samoset.org/training