It is Less Than a Month Away. What is? The Spring Scouts BSA Camporee!


Yes, the weekend of May 21-23, 2021 is when it will all happen. We will be gathering at Camp Fletcher, Stevens Point for our Camporee, the first in person-overnight, event in over a year. Please prepare your Scouts for some fellowship and fun.
The Camporee will be limited to the first 100 registered attendees. This is to comply with the Council's COVID regulations. Tent camping will be allowed, one per tent, allowing us to have the whole weekend for our camporee.
The theme of the camporee is a MYSTERY. So, you will have to stay tuned to find out more clues to be prepared for the fun.

Registration will be open on April 1st. The cost will be $15.00 per person.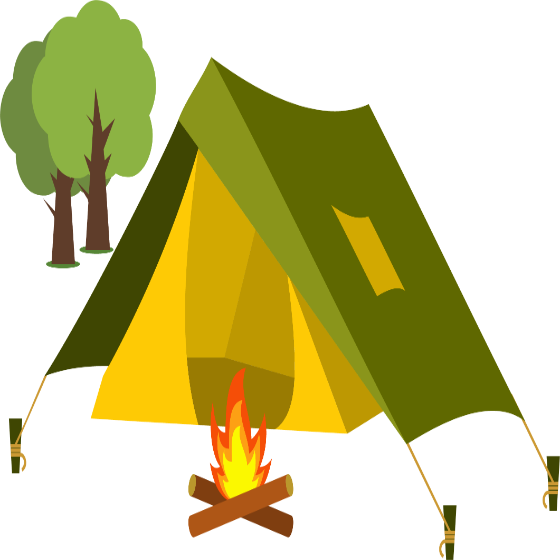 Scouting for Food
There are many families across our council that are struggling to put food on the table and as Scouts it is our duty to help others in need and do a good turn daily. That is the reason that the Samoset Council participates in the Scouting for Food Drive every year. Scouting for Food takes place on two consecutive weekends. On the first weekend, Scouts distribute bags and/or door hangers to let their neighbors know about the drive. On the second, Scouts revisit those houses to pick up bags full of canned food, cereal, pasta, peanut butter, juice, and other nonperishable items.
This year the date for distributing doorhangers is April 10th, 2021 and the day for food pick up will be April 17th, 2021.

The Unit Serving Executives at the Samoset Council will work with the Units to coordinate food drop off at local food pantries, coordinate which neighborhoods your Unit will be responsible for, and work to distribute the doorhangers. Please share this information with local newspapers, news stations, Chamber of Commerce, and community event calendars. The more awareness of the event the more food that can be collected for families in need. For more information on the event and for COVID safety guidelines please visit our website: http://www.samoset.org/resources/scouting-for-food-/74181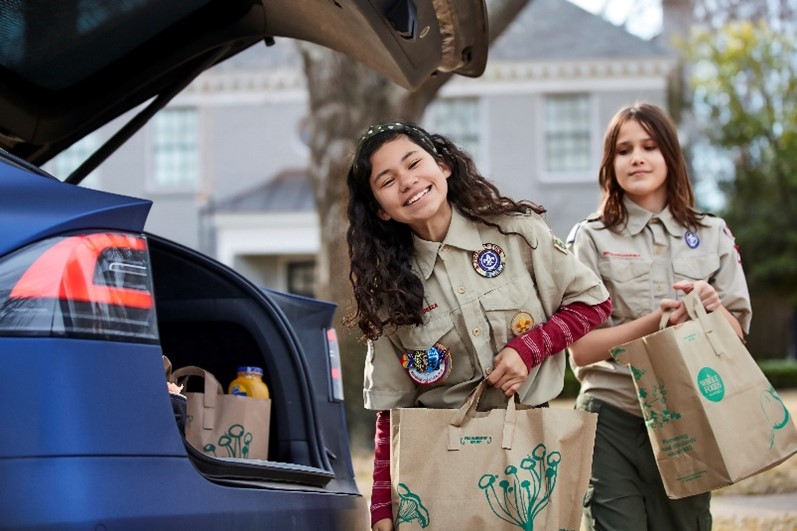 Akela's World – Extra Added Session!


Due to popular demand we have added an extra session to this year's Akela's World.
We have a NEW session available from Friday, June 18 through Sunday, June 20th.
So get your Pack signed up right away to take advantage of this opening!
To register for this opening call our office 715-355-1450 or email us at camp@samoset.org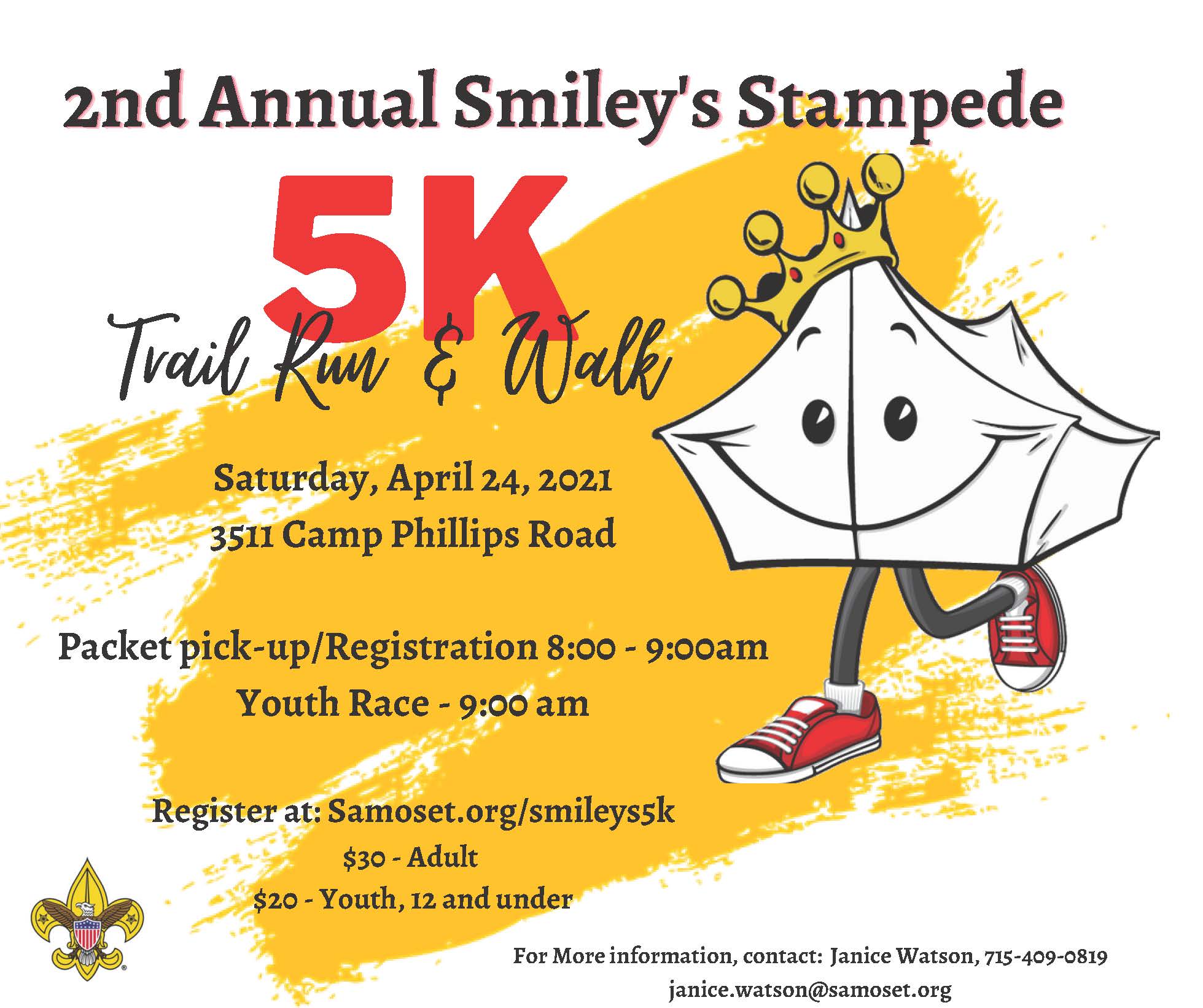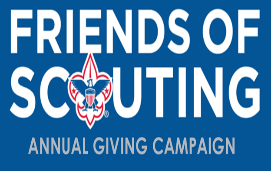 The Samoset staff and volunteers have made amazing progress towards reaching our annual Friends of Scouting campaign goal. The Samoset Council has raised $118,342.86 which is 49% to our goal of $244,000! The Friends of Scouting annual giving campaign is crucial to the success of the Samoset Council and to the continuation of exceptional youth programming for all families. If you are member of a Troop, Pack, Crew, or Ship and have not scheduled your Friends of Scouting presentation with your Unit Serving Executive please do so as soon as possible. If you are interested in supporting Scouting in your local community please visit https://app.mobilecause.com/vf/SMILEY or text Smiley to 71777. We are so grateful for your kindness and giving spirit!
Unit Charter Annual Agreement

Thank you everyone for your work and dedication to getting the recharter process done for this year! We really appreciate it. Unfortunately, there is one more piece that needs to be done. National did an update in mid-fall regarding the Unit Charter Annual Agreement. This current agreement is the one that we need on file at the council office. An email via Doubleknot will be going out to all Executive Officers, Chartered Organization Representatives, and Committee Chairs. This email will contain the information needed to complete the agreement. Please email support@samoset.org if you have any questions.
Spring Work Trek 2021

April 30th - May 1st OR May 7th - 8th


Cub Scouts, Scouts BSA, and Crews have all helped in the past. Now it's your turn, and don't tell anyone "IT'S FUN".


Where else can you go, camp for free, do some service, and ultimately make your camp a better place? Well, it's Spring Work Trek and everybody's doing it!
The camp supplies the food (Saturday Breakfast if requested, and a sack lunch on Saturday), entertainment, and all the ground space you'll ever think of for sleeping (bring your own tents).
During the weekend everybody helps out doing things such as: Painting, washing, raking, clearing, and the lists go on. But, here are a few of the projects that your unit may just want to head-up or just help with:


| | |
| --- | --- |
| | |
| | |
| | |
| | |
| | |
| | |
| | |
| | |
We could also use adult volunteers with the following equipment or skills:
Backhoes
Dozers
Wood Chippers
Electricians
Plumbers
So plan it now, and let us know you're coming. Register online by one of these two links: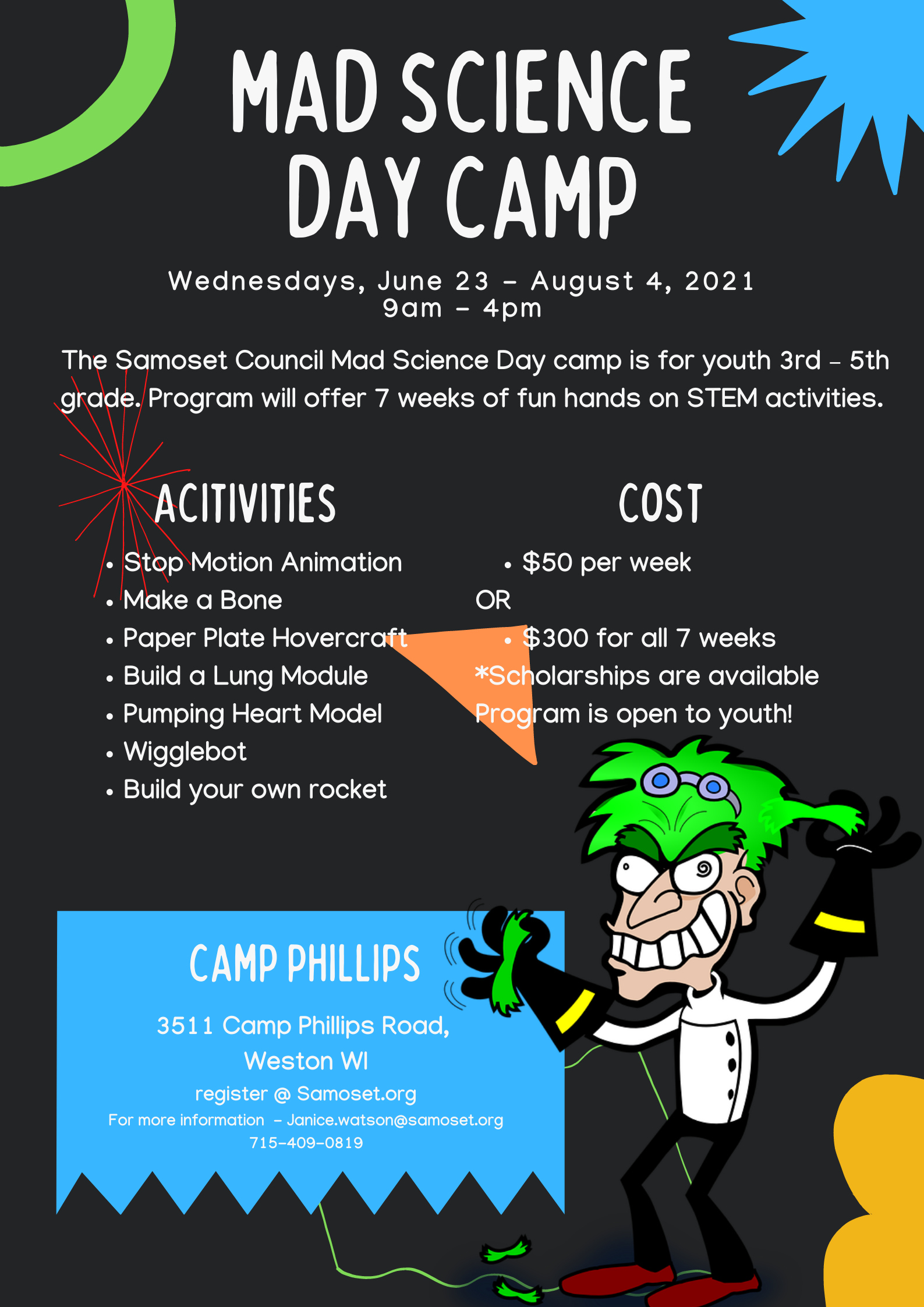 BALOO - Basic Adult LeaderOutdoor Orientation


BALOO (Basic Adult Leadership Outdoor Orientation) is the perfect training resource for new leaders in Scouting. This course is a must have for properly executing an overnight camping trip and focuses on how to safely organize such an event. BALOO is designed as an entry level training to kick off the adventure with fellow Scouters and touches on things like site selection, food preparation, equipment packing and more! It is a Scouting requirement to have at least one BALOO trained adult on site when conducting any overnight activity, as this is a crucial component of training for those that are looking to tackle the great outdoors.
The next BALOO training will be at Camp Phillips in Weston April 24th. With COVID restrictions being a necessary consideration, our registration will be capped to ensure that we stay within the outdoor guidelines for safety.

Click Here to register.
Wilderness First Aid 2021


Being held April 30 through May 1st. at Hanna Venture Base. Register online Wilderness First Aid


Cost: $35 for First aid/CPR and $90 for Wilderness First Aid


The American Red Cross Wilderness First Aid is a good, basic course in backcountry emergency response for those who live, work, or play in remote areas. The course is for anyone who participates in activities away from traditional EMS service – when there may be a significant delay in the notification of outside assistance, the time requires for definitive care to get to the victim, or moving the victim to more advanced treatment.


This course will include CPR & first aid instruction for those who need it (additional cost does apply). It's recommended that participants have current CPR and First Aid certificates.


Many of the activities will be outdoors – dress for the weather. Also wear old clothing as the scenarios will be made to be as realistic as possible.


CONTACT E-MAIL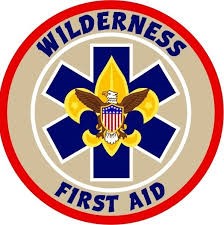 COVID-19 Roll-back


With the official arrival of Spring, the council Risk Management Committee met to discuss the current council safety protocols and unit recommendations pertaining to COVID-19. After a review of local, county, state, national guidelines the committee decided to lift some of the restrictions on unit meeting sizes.

Effective April 1, 2021 the indoor unit meeting guidelines will be increased to a 50% room capacity with proper social distancing and the use of face coverings are to be worn. Outdoor unit meeting guidelines will be increased to allow gatherings up to a 100-person group with the understanding that the space allows for proper social distancing and the use of face coverings are to be worn.


The use of council camps and properties was also discussed, and the same percentages and figures will apply to them as wellfor meetings and outdoor gatherings. There will still not be any overnight accommodations allowed within buildings. If a special need exists it must be discussed and approved by the Director of Support Services but as a rule there will be no more than 1 – 2 persons per room.
For units camping we encourage 1 person per tent, or you may have more if camping with a member of the same household (or unit cohort).


The Wausau Homes Scout Center will continue to remain open for the Scout Shop, distance learning programs, and office functions by appointment or curbside service only. Special note: The Scout Shop & Scout Office will be closed on Friday, April 2 in observance of Good Friday.


These new guidelines are subject to revision and will be in effect through May 31, 2021.
If you have any questions about Samoset COVID-19 policies, you can reach out to Mike Vangelov at 715-355-1450 or go to www.samoset.org/covid19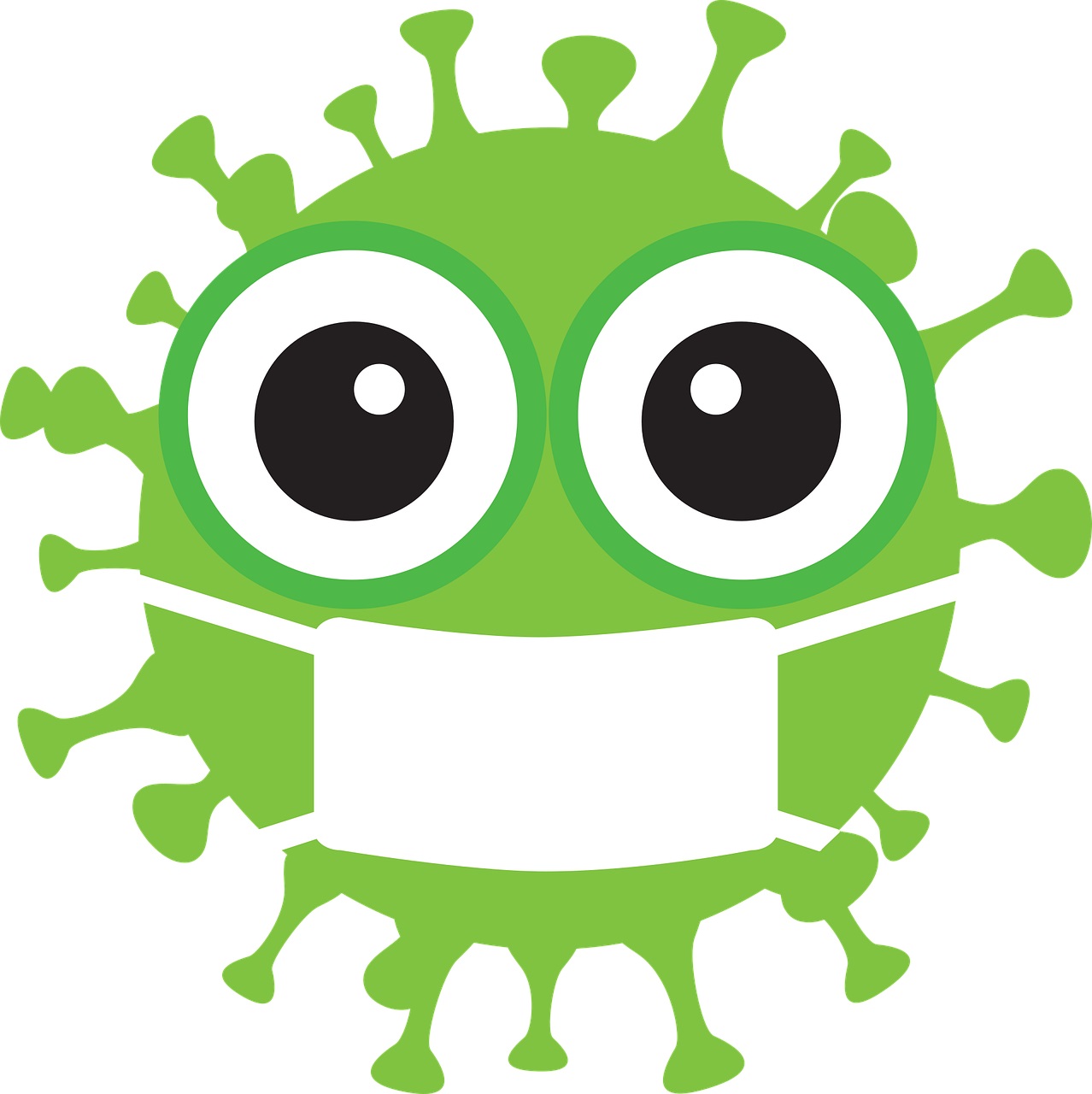 2021 Council Recognition Event


Mark your calendars for Sunday, June 6, 2021 to attend and help recognize Scouting volunteers at our 2021 Council Recognition Event. The Samoset Council is proud and excited to recognize the dedicated volunteers who give unselfishly of their time and talents to help deliver the Scouting program to our youth. As Scouting is a voluntary led movement, it is only through our Samoset volunteers that Scouting can be successful in making a meaningful impact in their lives of youth and their families.


Our council advancement committee will recognize selected nominations for the following categories:
Rookie Leader of the Year
Scoutmaster of the Year
Cubmaster of the Year
Advisor of the Year
Lab Manager of the Year
Den Leader of the Year
Distinguished Service Award
Council Award of Merit
Silver Beaver
We will also recognize the Samoset Council 2020 Class of Eagle Scouts. These outstanding youth have worked hard to earned Scouting's highest and most prestigious award!


Location of the event and time to be announced soon.


The deadline for submitting a nomination is Friday, April 30, 2021. Nomination forms can be found HERE. For additional information or questions email Kristin at kristin.woller@samoset.org
Camp Tesomas is Looking for you!


Tesomas is still looking for applicants for a High-Risk Program Area. If you know anyone that would be interested in working in our MicroTrek area, please have them send an email to zach@campingisking.com or direct them to campingisking.com/staff to fill out an application.


Interests and/or certifications in COPE & Climbing, Shooting Sports or Lifeguarding would be preferred but not required as on the job training is available. They would need to report to camp on June 13th for staff training and be available until August 8th.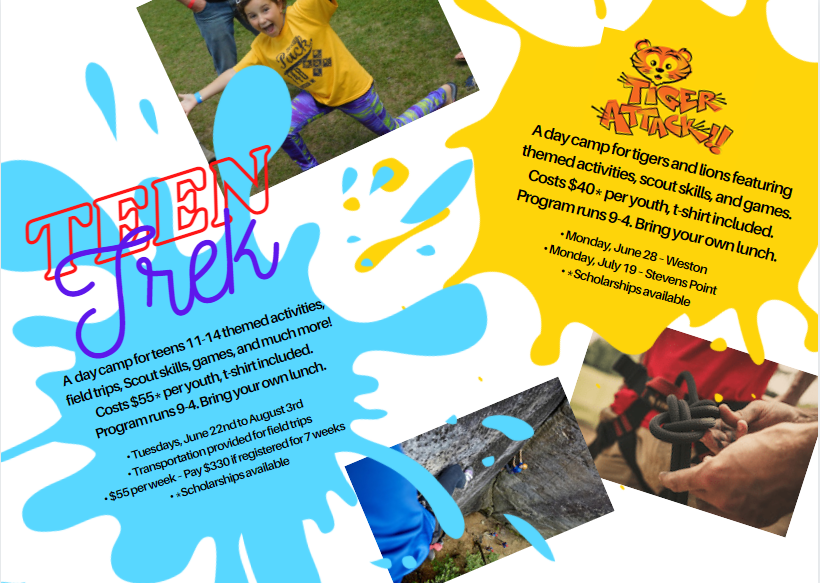 Camp Reservations

Reservation requests for the 2022 summer camp season will open on April 1, 2021 for Scouts BSA at Tesomas Scout Camp and Cub Scouts at Akela's World. Look for the reservation link on the council website soon. Your online request will be time stamped, and you will be notified later this summer on the requested date for the reservation and your campsite selection. A non-refundable reservation deposit will be required at the time of your submission.
Wood Badge

If you have ever desired a course that takes you far beyond your Basic Leader Training, then how about a leadership course that rivals many corporate level trainings? Wood Badge is this and more! The purpose of Wood Badge is to develop skilled leaders who can strengthen Scouting units in achieving the mission of the Boy Scouts of America. This course is designed for Cub, Scouts BSA, and Venturing leaders and will help you better understand how all the Scouting programs tie together. This training will provide you with many useful leadership tools to help enable our youth to have the best possible Scouting experience as well. With aspects like building your skills in communication, learning conflict management and developing teaching methods, Wood Badge is an advanced, national leadership course open only to Scouting volunteers and professionals. We hope to see you there!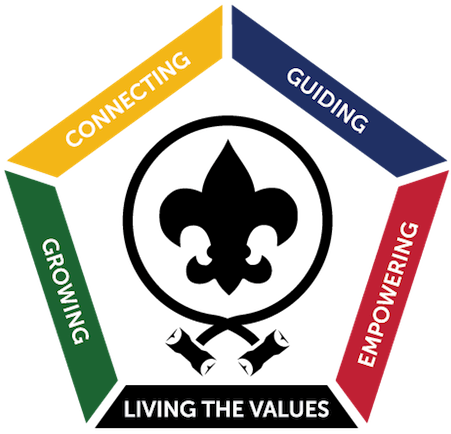 Council Calendar / Resource Guide


As we try to reduce our impact on the environment, the annual council calendar and resource guide will only be available in an electronic format going forward. The council website calendar has been updated and is current through the end of December. The unit resource guide is being revised and will be available online by the end of April. Leaders will now be able to effectively plan and update their units' activities with the accurate knowledge of council sponsored events.
Camping Update


Spring is in the air! The weather is getting warmer, the trees are beginning to bud and summer camp will soon be here. The Samoset Council is excited to operate our camping programs at Crystal Lake Scout Reservation. Our summer camp leadership has been busy developing an exciting program for your youth.


In 2020, we were one of only a small group of Scout summer camps across the country that operated a summer camping program. While we had challenges with how to implement a safe and fun program with effective COVID precautions, we successfully served over 3,500 youth in our programs and no staff or guests contracted the COVID-19 virus attesting to our safe and effective Health & Safety protocols.

So many have asked the question: How will summer camp look in 2021? Based on current guidance from state and national health agencies, we know that we will need to continue some level of COVID mitigation strategies. However, as things improve and we learn more about the virus, we are working to bring the elements of a "normal" camp that we all love back into our operating plan. We want your campers have a fun and memorable Tesomas and Akela's World experience!
Safety is our number one concern, so things that will stay the same include:
Health screenings and protocols
Smaller capacities in dining halls
No 'family-style' meal service
Smaller group sizes during activities
Separation among groups
Sanitation and handwashing
Shared tenting is ok (with parent permission)
Carpooling is ok (with parent permission)
Face covering and distancing – situational
Whole unit can act as a household while in the campsite
What new changes are we planning for 2021?
Increased choices for youth on Advancement/merit badges
Older Scout activities
Free Time
Regular trading post operations
Open shower time
Personal bikes allowed at camp
Increased dining hall/prepared food meals
We look forward to you joining us at camp this summer! If anyone has any questions or concerns about attending our camps please contact Mike Vangelov, Director of Support Services at 715-355-1450.
Key Dates:


April 1 – 2022 Summer Camp Reservation system opens
April 1 – 2021 Merit Badge/Program Registration opens
April 15 - $75 per person payment due
June 1 – Full payment due