Update of National BSA Chapter 11 Bankruptcy Reorganization


As you know, the national organization of the Boy Scouts of America (BSA) filed for bankruptcy in February 2020 to equitably compensate victims of past abuse and make every effort to ensure that Scouting's mission continues. Note, that Samoset Council did not file for Chapter 11 Bankruptcy protection.

To read more on this important update, please click HERE.
COVID-19 Council Update


Scouters - I'm sure you have all heard the exciting news from the CDC on the wearing of face masks. It would appear that we are on the way to getting back to some kind of normalcy.


See link: https://www.cdc.gov/coronavirus/2019-ncov/vaccines/fully-vaccinated-guidance.html
While the guidance for wearing face coverings is clear for fully vaccinated people in daily activities (https://www.cdc.gov/coronavirus/2019-ncov/daily-life-coping/participate-in-activities.html ), specific guidance for employers and the workplace have not yet been provided. The CDC is also expected to issue updates to summer camp operations in the next few weeks.
The Samoset Council Risk Management Committee is constantly assessing the situation and will be meeting again the first week in June. Our first consideration is always the health and safety of our employees and members, so our COVID-related safety guidelines – including wearing masks, staying six feet apart, washing hands frequently and disinfecting high touch areas daily – remain in place while we evaluate CDC and forthcoming Occupational Safety and Health Administration (OSHA) standards and local authority guidance.
Thank you for doing your part to keep yourselves and your fellow Scouts and Scouters safe in your communities.
New Camping Director & Employment Opportunities


New Camping Director

Brittany Burmeister has been hired to serve as the new Samoset Council Camping Director effective June 1. "Brit" as she likes to be known, is an experienced Scouting professional with multi-council experience having served in both the Three Harbors Council, Milwaukee, WI as well as most recently the Bay Lakes Council, Appleton, WI.

She brings 13 years of camp experience, enthusiasm, innovation, a great understanding of customer service, and the ability to develop strong volunteer relationships. As the Camping Director she will serve as a key member of the Program Team. In this position she will be responsible for implementing all camping programs (summer camp, day camp, outreach, winter camp) at Crystal Lake Scout Reservation and at offsite locations and will also work to develop new programs to better utilize our properties. She will be the staff advisor to the Council Camping Committee, Wood Badge and the National Youth Leader Training Committees.


Welcome Brit, we're glad to have you as a member of our Samoset family!

Scout Shop

The Samoset Scout Shop is currently accepting resumes for a part-time (20 hrs. week) - Scout Shop Associate. Duties include: providing excellent customer service by assisting customers in the selection and purchase of Scout Shop merchandise. Complete sales transactions and assist customers with product information. Stock merchandise and prepare email orders for shipping.

So if you're at least 18 years of age or even retired and just looking for an opportunity to help others then apply by sending a cover letter and resume via email to Michael Vangelov, Director of Support Services at michael.vangelov@scouting.org.
(Pay range is $12 - $14 per hour depending on experience.)


Outreach Opportunities


The Samoset Council Outreach program is hiring summer and year-round help!
Are you or your Scouts interested in working for the Samoset Council? The Outreach Program has several positions available.

Summer help: Driver, Program Specialists, and STEM Specialists. We also have openings for year-round Program Specialists.
If you or anyone you know is interested, please email janice.watson@samoset.org or call 715-409-0819
Music Merit Badge


Brought to you by....Wausau Conservatory of Music


Does it seem like getting your music badge is a daunting task? WCM can help you earn it in one week!


WCM in partnership with the Samoset Council for Boy Scouts and the Girl Scouts of the Northwestern Great Lakes are pleased to offer this one week course in music understanding and appreciation for Scouts wishing to earn their music badges.
Based on the requirements of both organizations, scouts and other interested youth will learn about music theory fundamentals, composition, music history and basic music copyright laws. They will also be part of a music ensemble, learning to play their compositions and a few pieces on hand chimes.


The course will culminate with a recital of the students' compositions intermixed with the concert pieces they learn.
Register today at HERE.
Samoset Scouters, the 2021-2022 Council Resource Guide is now available online!


Units can use this guide for help in:

Planning their program
Funding their program
Growing their program
Understanding training opportunities
Rechartering your unit
In addition the appendix contains info from council camping opportunities to safety reporting information to name a few. We hope all units and their leadership will review the information in this guide to be better prepared to lead their units. This year the resource guide is only available online and it does not contain the council calendar which can be accessed separately on the council website.

Access it Here
Council Fall/Popcorn Kick-Off Locations
| | | |
| --- | --- | --- |
| Service Area | Location | Date/Time |
| Stevens Point | United Methodist | August 10, 2021 - 6:45pm |
| Wisconsin Rapids | First English Lutheran Church | August 10, 2021 - 6:45pm |
| Marshfield | Klemme Reserve | August 12, 2021 - 6:30pm |
| Wausau/Weston | Camp Phillips | August 12, 2021 - 6:30pm |
| Tomahawk | Hann Venture Base | August 12, 2021 - 6:30pm |
Wood Badge:


Wood Badge is an advanced leadership course available only to Scouters that is designed to strengthen the skills of unit leaders to better deliver the mission of Scouting. You can expect to develop knowledge in project planning, conflict management, mentoring, leading change and more! This course is for Scouters in at all levels of the program and will help you understand more about what Scouting is and why we do it. Outside of having fun, building experience, and networking with fellow leaders, you will ultimately get to think about the practice of Scouting, and live together in the spirit of the Scout Oath.

A recent participant of our course had this to say: "I have had many leadership training courses in my professional life. This, by far, is the best. It is brilliantly conceived and well executed."

This year the course will be held August 27-29 & September 18-19, 2021 at Akela's World Cub Scout Camp in Rhinelander
UPDATED YOUTH PROTECTION TRAINING MODULES
Over the decades, the Boy Scouts of America has been a leader in developing training and policies designed to keep young people safe. Over time, these policies have become standard with organizations across the nation. True youth protection can be achieved only through the focused commitment of everyone in Scouting.
The National BSA has heard feedback form volunteers in the field and are now releasing updates to the mandatory online adult Youth Protection Training to include items such as:
New mobile friendly design.
Updates to the certification test to make questions less ambiguous.
National BSA will communicate when this new release is available – the target date is June 1st, 2021. It is recommended that anyone who has started the online training prior to this date complete the training as the new versions will cause the loss of any progress in a module.
As you meet with your committee and other parents to plan your Scouting group's calendar and budget for the upcoming year, please start the discussion on your popcorn sale.

The first thing you need to establish is your Unit's Popcorn Kernel. Here is a list of the duties the Popcorn Kernel will be responsible for:
Attend popcorn kickoff in August.
Host a unit sale kickoff. Establish the goal and focus on fun incentives!
Coordinate and promote your unit's "Knocking for Popcorn Campaign" during the sale.
Ensure all families in your unit receive sales materials (some join late or miss the unit kickoff)
Collect popcorn orders and prize selections from each Scout and combine them to create your unit's order.
Place "Winner's Circle" prize orders.
Make sure all qualifying Scouts get the prizes and incentives they earned.
Complete blue bonus prize form and turn in at popcorn pick up along with selling roster.
Coordinate pick-up with your distribution site and distribute popcorn to the Scouts of your unit.
Collect money from Scouts and turn in check to the Samoset Council.
This year you have the option to participate in "Show and Sell". Your unit will have a low-risk opportunity to increase your sale by ordering product in advance. Product can be sold door to door, at work, at family gatherings or at store fronts. Samoset Council is offering increased commissions based on your show and sell participation as well as success. Now is the time to discuss with your Unit the option of "Show and Sell".
Summer Recruitment - Getting the Word Out!
Besides the typical activities, what can you do to get the word out about joining scouting? Marketing research shows that it's all about exposure, and it takes up to seven impressions to cement the message in your audience's consciousness. Here are a few ideas you probably haven't tried:
Blow your own horn. Put up a display at your school and at your chartered organization. Even a static display in a window or display case can catch the eye of prospective members. Have pictures of fun things you've done recently. Some camping gear or a Pinewood Derby car adds to the "wow" factor. A poster or three in the lunchroom with the day and time of your recruiting night reminds boys and girls about the event. Don't forget about local businesses that may allow posters or displays in their store windows.
Use your Scouts as recruiters. The best recruiters are those boys and girls who are having fun right now! Ask your Scouts to invite a friend who isn't in the pack or troop already. The BSA has peer-to-peer recruiting cards that youth can give their friends (ask your unit service executive or council office for details). Make sure they know they'll earn the Recruiter emblem if their invitation results in a new Scout joining.
Pin one on. You might know, the BSA has a website devoted to recruiting new members. The beascout.org site has a ZIP Code search function that returns a list and map of Scouting units in the area; each has a "pin" with meeting time and place and contact information. Now is the time to update your unit's information so it is current and correct.
Go out on the town. Participate in civic events in your community. Many towns have summer events of some kind. Have an exhibit demonstrating Scouting. Have your unit volunteer to help with some aspect of the event, like selling refreshments or managing lines for attractions. If there's a parade, ask to march in it. Scouts in uniform remind the community that yes, we do still exist, and might intrigue impressionable youth and their parents.
Go to church. Contact the churches in your area and ask if they'd be willing to put an announcement in their bulletin. Also ask if you can put a recruiting flyer on the bulletin board. A general information phone number or website could be listed, and flyers could have tear-off tabs so interested parents will have a number to call to find out where and how to join.
Get in the newspaper. Contact the editor of your community's newspaper and provide details on activities and service your unit is doing Include information on Join Scouting events. They're usually happy to provide a listing or run a story. A high-quality photo of some exciting activity can help promote your recruiting and can help the editor fill the "news hole".
Your name in lights. Schools, churches and civic facilities often have a changeable message sign that displays short announcements for passers-by to see. Ask if they'll add your recruiting event to the rotation.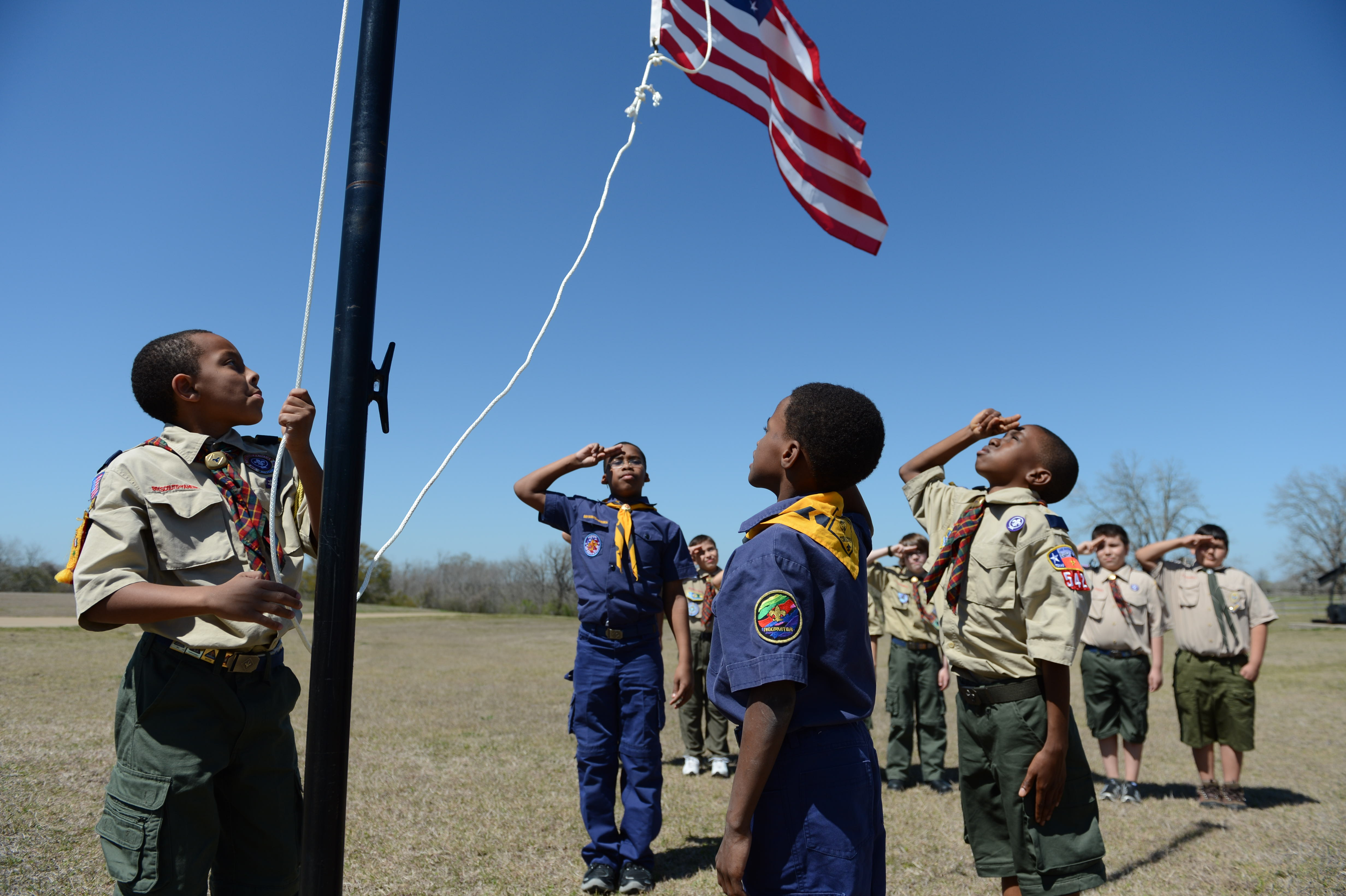 Select Cub Scout Elective Adventures Retiring Effective May 2022



Nineteen elective adventures (listed below) have been some of the least popular with some being earned by fewer than 3% of Cub Scouts.


Elective adventures are reviewed for content and popularity. These 19 were the least popular based on sales and advancement data. They will be archived in Scoutbook and Internet Advancement, removing the ability to mark them as completed after the retirement date of May 31, 2022.


Cub Scouts can still earn these electives through next May. Most packs transition to the next rank in June, but your den or pack might already have plans for the next program year. So, this next program year from fall 2021 through spring 2022 will be the last time to work on these adventures. However, inventory for loops and pins is limited and will only be available while supplies last.
Cub Scouts can still wear the adventure loops and pins after that date. Once it's earned, it's not taken away from the Cub Scout.
To be more agile in program development, the following elective adventures will be retired, effective May 31, 2022.
Tiger

Family Stories
Earning Your Stripes
Tiger Tales
Tiger Theater

Wolf

Collections and Hobbies
Grow Something
Hometown Heroes
Motor Away

Bear

Beat of the Drum
World of Sound
Make It Move
Robotics

Webelos/Arrow of Light

Looking Back Looking Forward
Maestro
Project Family
Build My Hero
Adventures in Science
Fix It
Movie Making



This Is Your Opportunity to Share Thoughts on Future BSA National Jamborees


Take this survey and/or participate in a focus group to provide input on future National Jamborees. Learn more here.